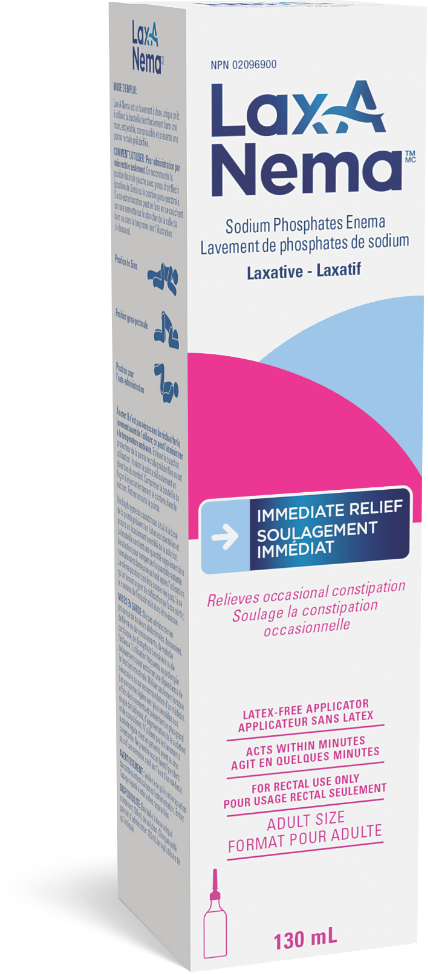 Lax-A Nema®
Immediate Relief
A single dose rectal solution that provides fast-acting relief from occasional constipation
Fast-acting. So you can get back to normal fast.
Lax-A Nema® is a sodium phosphate rectal enema that acts within minutes of its administration. It comes with a pre-lubricated and latex-free applicator, a compressible bottle and is comfortable and easy to use.
Single Dose
Lax-A Nema® is a single-dose enema treatment.
Latex free applicator
Lax-A Nema® is easy to use.
Fast-acting
Lax-A Nema® triggers a bowel movement within minutes.
How does Lax-A Nema® work?
Lax-A Nema® is a single-dose saline enema that increases fluid in the small intestine for fast-acting relief.
2 to 15 minutes - Lax-A Nema® usually causes a bowel movement in 2 to 15 minutes.
Lax-A Nema® by the numbers: everything you need to know.
Dosage - Single-dose rectal enema.
Medicinal Ingredients - Monobasic and dibasic sodium phosphate.
Storage - Store at room temperature (15°C to 30°C).
Cautions and Warnings - Do not use in the presence of abdominal pain, nausea, fever or vomiting, cardiac disease, severe dehydration, or debility. Frequent or prolonged use of enemas may result in dependence for bowel function. Use only when needed or when prescribed by a physician. Elderly persons are more sensitive to the effects of enemas and are more likely to show signs of weakness, increased sweating and convulsions. Do not use rigid enema tip in colostomy patients. Do not take any laxative for more than one week, except on the advice of a physician. Care should be taken to ensure that the contents of the bowel are expelled after administration. Repeated usage at short intervals should be avoided.
This product might not be right for you. Always read and follow the label.