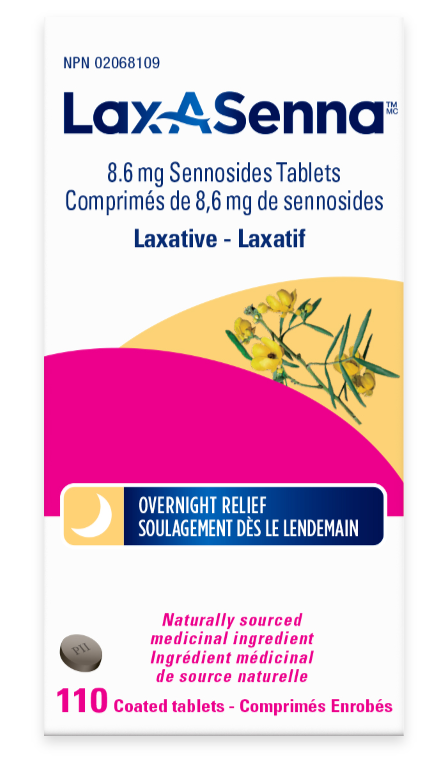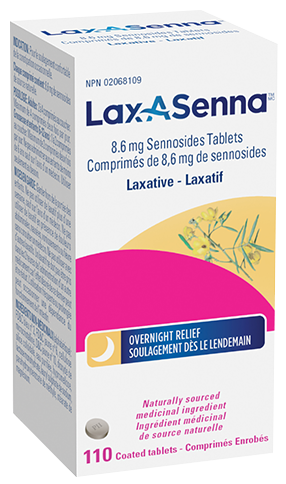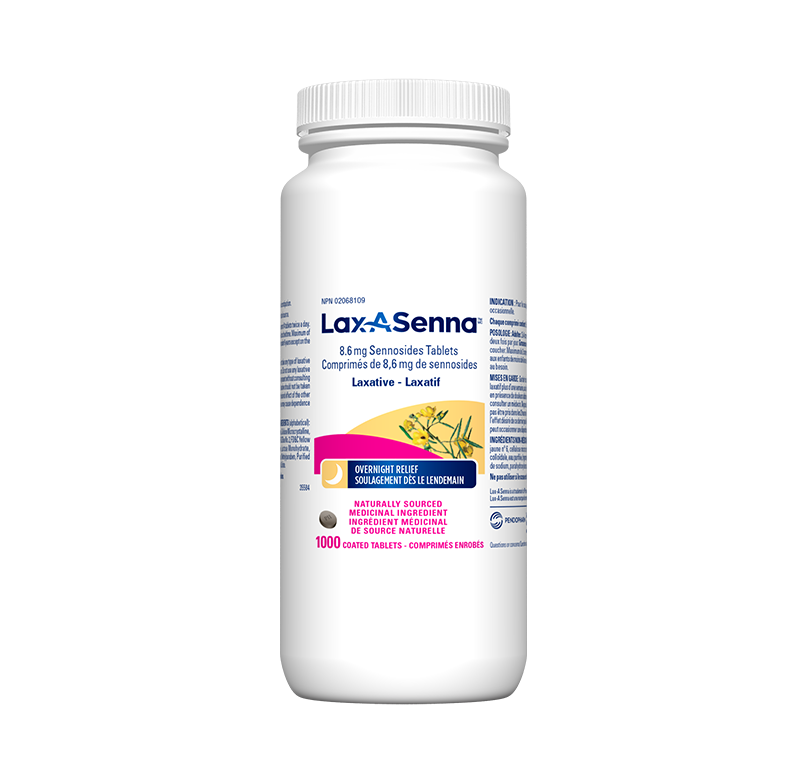 Lax-A Senna®
Overnight Relief
Naturally sourced sennoside tablets speed up bowel movements for relief from occasional constipation.
Sometimes the best start to your day is a regular one.
Lax-A Senna® is an over-the-counter stimulant laxative made from sennoside, a naturally sourced ingredient. The tablets are coated and easy to swallow—which is convenient whether you're at home or off traveling somewhere. Just take the recommended dosage before bed and get a regular start to your day.
Naturally Sourced
Lax-A Senna® is made from sennosides, a naturally sourced ingredient.
Convenient
Lax-A Senna® tablets are coated and easy to swallow.
Fast-acting
Lax-A Senna® is a stimulant laxative that helps you wake up ready to go.
How does Lax-A Senna® work?
Lax-A Senna® stimulates the contraction of intestinal muscles for a more rapid onset of action than bulk laxatives.
6 to 12 hours - Lax-A Senna® generally works within 6 to 12 hours to help produce a bowel movement the following morning.
Lax-A Senna® by the numbers: everything you need to know.
Dosage - 2 to 4 tablets at bedtime for adults and children 11 years and over. Maximum 4 tablets daily.
Ingredients - Sennosides
Storage - Store at room temperature (15°C to 25°C) and protect from light and moisture.
Cautions and Warnings - Keep out of the reach of children. Consult a health care practitioner if symptoms persist or worsen. Consult a health care practitioner prior to use: if you are taking thiazide diuretics, corticosteroids, licorice root or other medications or health products which may aggravate electrolyte imbalance, cardiac medications such as cardiac glycosides or antiarrhythmic medications; if you have kidney disorder, faecal impaction or symptoms such as abdominal pain, nausea, vomiting or fever. Reduce dose or discontinue use if you experience abdominal pain, cramps, spasms and/or diarrhea. Do not use if you are pregnant or breastfeeding, have abnormal constrictions of the gastrointestinal tract, potential or existing intestinal blockage, atonic bowel, appendicitis, inflammatory colon diseases such as Crohn's disease or ulcerative colitis, abdominal pain of unknown origin, undiagnosed rectal bleeding, severe dehydration with depleted water or electrolytes. Hypersensitivity is known to occur, in which case, discontinue use.
This product might not be right for you. Always read and follow the label.